1.6 litre
The 1.6 litre class allows either of two models of the 1600cc DOHC Toyota 4 cylinder engines. The only changes permitted are the substitution of two dual throated Weber carbies for the factory fuel injection system. The use of an aftermarket computer used in conjunction with the stock injection is allowed. Dry sumps are allowed. Pump petrol (gasoline) as obtained at service stations is the only legal fuel.
The kilo mark stands at 161.4kph (100.3mph).
4.2 litre
The 4.2 litre class is based on the 1970's Holden V8. Except for the camshaft which may be of any make or grind, only standard Holden replacement parts are permitted. The cylinders may be overbored a maximum of 0.040 inches. Compression may be raised by the removal of metal from the block or heads. (no domed top pistons) with a minimum combustion chamber volume of 53ccs. The standard intake manifold must be used with one four barrel carbie, either Rochester or Holley. Porting, polishing or larger valves are not allowed, nor is magneto ignition. Balancing, stronger springs and dry sumpimg are permitted. Fuel is restricted to pump petrol. Though 320 bhp has been registered on a dyno by a legal motor, 300 is generally quoted. Engines will run safely up to 7200rpm.
The kilo record is 200 kph (124.4mph)


A 4.2 litre boat Research
5.2 litre & 6 litre
The 5.2 & 6 litre classes are restricted only by engine capacity and av gas or methanol may be used. Super/turbo charging is allowed, but a penalty applies. A factor of 1.7 is applied to actual capacity to determine the class capacity. Thus a 3 litre supercharged engine would make it the equivelant of 5.1 litre (3 x 1.7 = 5.1), and therefore run in the 5.2 litre class.
The record for the 5.2 litres is 214 kph (133.3mph)
The record for the 6 litre class is 230.4 kph (143.2mph)

6 litre boat Mistic Miss
Grand Prix Hydroplane
GP hydro is the only class where dimension and weight requirements are specified (though a general rule allows a maximum length of 9.14m / 30 ft for all hydros). The maximum length of a GP is 8 metres (26' 3") and if supercharged the boat must weigh no less than 1080kg (2380 lbs). Engines must not exceed 510ci (8.26 litres), there being no penalty for supercharging, be iron block, two valves per cylinder, with methanol allowed.
While reinforced cockpits are now required on all new hulls, those built prior to this rule may still be raced. A hydro field may thus comprise of Rear Seaters and Cabovers with and without reinforced cockpits. Inboard tunnel hulls (also known as KTs) are generally raced with hydros except in a hydro championship event. All hydroplanes must be driven by a propeller acting against the water. Nitrous Oxide and nitro fuels are allowed only in Unlimiteds.
There are many hydros running in Australia which do not meet the above class requirements. These compete in non-class events, as indeed do the class specific boats from timr to time.
Australia has a long and colourful history of hydroplane racing, dating from stepped hulls of the early 1900s. The NSW Hydroplane Club continues the tradition by fostering new boats and drivers.


GP boat Latimer Lodge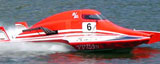 Impatient with a reinforced cockpit

Older rear seater Swap, without a reinforced cockpit