Vale Neil 'Fish' Coddington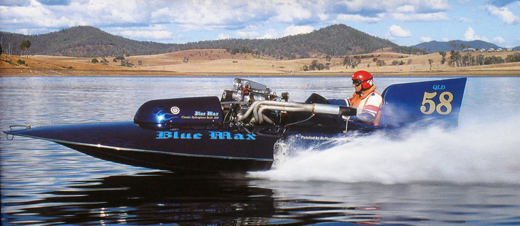 It is with a heavy heart that we notify you all that Neil 'Fish' Coddington passed away on Friday 5th
February while testing his Classic Hydro, Blue Max, in Queensland. Details of the accident are still unclear, but the terrible result is the loss of one of QLD boat racing's most colourful characters. The boat was also nearly
completely destroyed in the accident.
A one-eyed Classic Hydro fanatic, racing and restoring both Blue Max and the smaller red Classic Hydro The Baron, Neil was always developing the big blue hydro, that was originally built in Victoria in 1959 to Jones plans. Christened with the name Black Knight, amazingly for a boat of this age, Neil was just the second ever owner.
An accident a few years ago, saw Neil hand over the racing duties to his brother, Graham (Midnight Miss) and good friend Glenn Fryer (Fireball). Neil was still a dab hand on the tools, recently re-engineering the boat with a supercharged Lexus V8.


Glenn Fryer at the wheel. Taree, Easter 2009

It was skiff racing with his father Col, many moons ago where Neil found his boat racing legs. But it wasn't
always water-bourne speed that Neil's legs straddled. In the 1970s, Neil went speedway bike racing. Word is that he even represented Australia on a few occasions while riding the sliders.
A regular fixture of hydro racing at Bundy Thunder and Taree's Easter Classic, Neil was always one for putting a great show. His boats are always fantastically presented, and usually the boats were combined with a matching tow vehicle. Below is Blue Max being towed by Neil's 1960s Ford F100.
The photo at the top of the page is of Neil himself driving big blue boat a few years ago. This photo is from the Cool Boats book, when the boat ran a de-tuned Victor Bray supercharged Chevy V8.
Our heart felt condolenses and thoughts go to Neil's partner Debbie, brother Graham, family and friends at this difficult time.